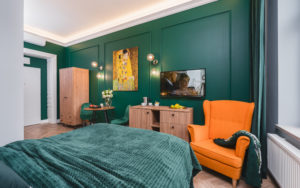 The apartments are located in the heart of Krakow, in a generally renovated tenement house. The facility is also equipped with a lift.
The name of the apartments refers to artistically decorated interiors and the street name "Zacisze" which in polish means secluded.
The great advantage of this place is its location. The facility is located 200 m from the station and 400 m from the Main Square. The street is a place where the hustle and bustle of the city does not reach.
Each of the interiors is named after one of the authors of the paintings decorating the walls of the apartments. They are El Salvador Dali, Gustaw Klimt, Tamara Lempicka and Franz Mark. Equipping the apartments, we took care of the smallest details so that our guests feel comfortable, and at the same time they could at least to a little extent to enjoy art. Owners particularly sensitive to it wanted to share with the guests their passion for aesthetics, which in their opinion has a huge impact on the state of our mind, and thus allows us to do better and relax better.
Facilities: Each apartment is equipped with a private bathroom, air conditioning, fridge, comfortable bed, TV, WiFi.
There is also a communal kitchen with induction hob, microwave, dishwasher and necessary kitchen accessories, washing machine, iron and ironing board, coffee maker, tea, coffee, bath cosmetics, towels.
In addition, fresh apples always await guests in the lobby.
Available apartments: